The enormous price growth of the past few months and the latest price corrections makes Ripple interesting for investors. Learn here how to buy and sell Ripple (XRP) with Euro or US-Dollar.
In a sense, Ripple can be understood as the "Bitcoin of the banks". It is massively supported by them to exchange digital values between different currency systems. Ripple also uses a kind of ledger with a decentralized structure, but it is managed by a centralized, profit-oriented organization.
These points lead to the fact that Ripple is seen in the crypto community as the outsider and is treated with suspicion. Above all, the fact that it is centrally organised and supported by banks goes too far for many people.
Nevertheless, it is traded on all common crypto exchanges. We want to show how to buy or sell Ripple, because the value of this currency has risen sharply in recent months and we are constantly being asked for it.
In November 2017, the value of a Ripple (XRP) was only USD 0.2. In January 2018, the price then rose massively to over USD 3 per Ripple. Considerable growth. In terms of market capitalization, it even replaced Ethereum at that time, which was ranked second among cryptocurrencies. At the beginning of 2018 there was then a sharp price correction, which is why many investors are currently thinking of investing at the reduced price.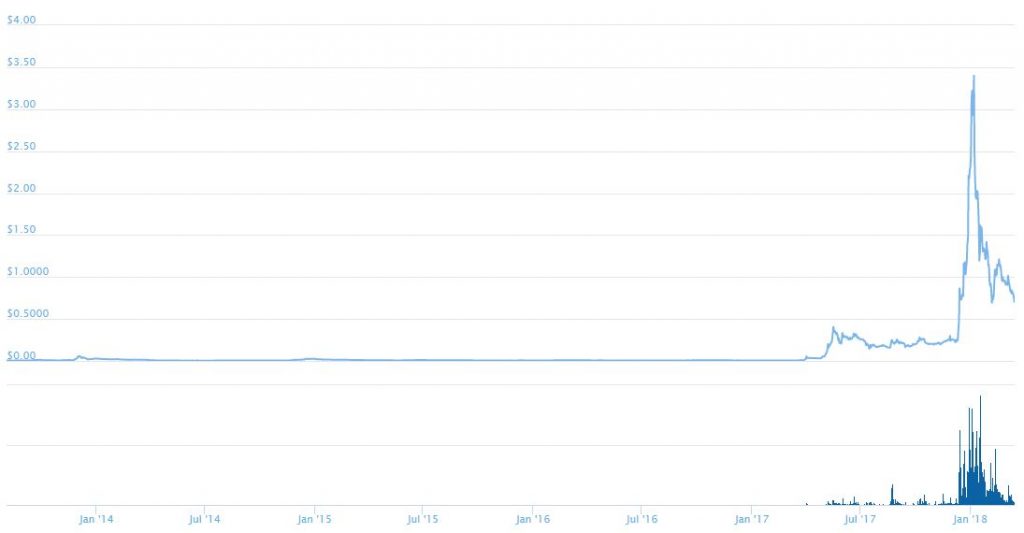 The fact that Ripple is supported by many large companies and is even in active use there in some cases suggests that the price could rise even further.
There are two different ways to participate in the potential price increase of Ripple: Either via a cryptocurrency and a crypto exchange or via a CFD. The first case is relatively complicated if you don't have already a cryptocurrency like Bitcoin. The way via CFDs is easier, but has the disadvantage that you only have Ripple virtually. However, the possible profit increases are identical in both cases and can even be leveraged many times by using CFDs.
Trade Ripple with a CFD Broker
To buy or sell Ripple CFDs, first register at any CFD broker who offers these tokens, deposit the desired amount in Euro or US-Dollar and buy the planned amount of Ripple CFDs.
If you would like to go even deeper into trading CFDs, we have an article for you to read on: How to increase profit with Ethereum CFD?
Buy Ripple via Crypto Exchange
In order to buy Ripple via a crypto exchange, you need an account at one of the providers who trades these tokens. One such provider is the online broker Binance¹. This is a relatively well-known broker.
Basically, only 3 steps are necessary to buy Ripple: open an account at Binance, deposit money in the form of other cryptocurrency like e. g. Bitcoin or Ethereum into your account and then exchange it for the desired amount of Ripple. The Ripples can then be left with the vendor or can be transferred to a separate wallet at a later date. In case you don't have any cryptocurrencies yet, we will also explain how to buy them.
Step 1: Open an account at Binance
Click on this link¹ to create a new Binance account.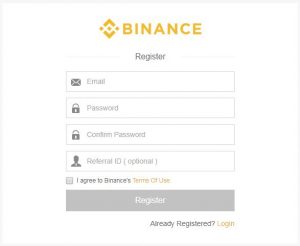 Enter your email address and password and click on "Register". After a confirmation prompt you have successfully created your personal Binance account. Congratulations!
Step 2: Transfer money to your Binance account
To buy Ripple from your Binance account, you need to deposit crypto money into your Binance account. Unfortunately, online brokers such as Binance do not currently accept Fiat money such as US Dollar or Euro. Instead, you have to go the detour and buy a cryptocurrency like Bitcoin or Ethereum and then deposit it on Binance. If you do not already have another cryptocurrency and the associated wallet.
Buy crypto money
For the purchase of cryptocurrency we recommend the provider Coinbase¹, as it is extremely easy to use due to its online wallet and is one of the most trustworthy providers worldwide. First register at Coinbase and buy the desired amount of Bitcoin (BTC) or Ethereum (ETH) you want to exchange for Ripple.
Considering that the transaction fees at Bitcoin are currently extremely high, we recommend the purchase of Ethereum.
Transfer crypto money to Binance account
After you have successfully completed your registration at Coinbase¹ and purchased the desired amount of Bitcoin (BTC) or Ethereum (ETH) there, you must now charge your Binance account with the purchased Bitcoins (BTC) or Ethers (ETH). You can do that by transferring them from Coinbase to Binance. The following instructions show this procedure as an example for Bitcoin. For Ethereum, this works analogously.
Of course you can also transfer Bitcoins from an offline wallet or another online provider. In these cases, the procedure is always similar to that of Coinbase.
Log in to Binance¹ and click on "Funds" at the top of the page and then "Deposits".

Now you will get a list of all currencies that Binance supports. Choose BTC from the list and press enter. Afterwards a kind of "account number", the deposit address, is generated for you. To this account you can transfer your Bitcoins from Coinbase to Binance. First copy this address.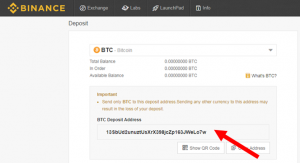 Log in to Coinbase and click on "Accounts" and then click on "Send" in the "BTC Wallet" section.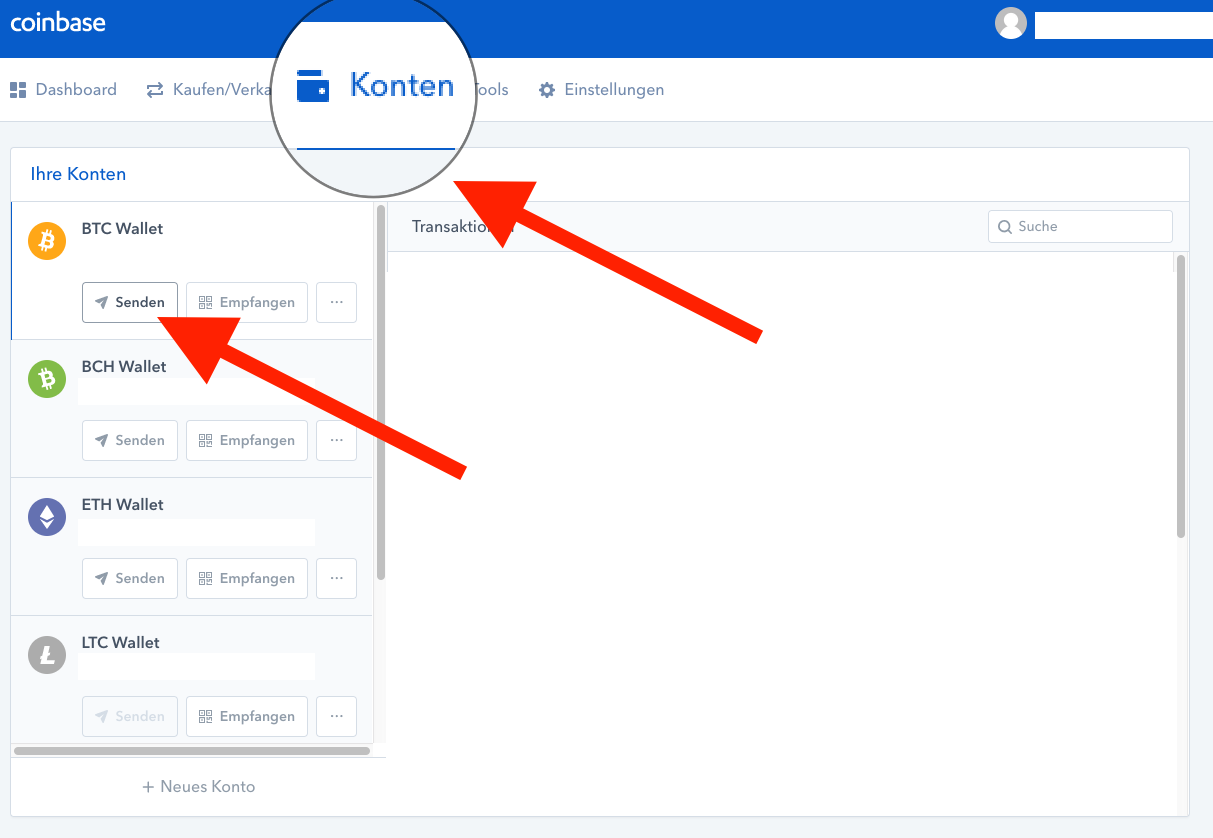 In the "Recipient" field, enter the address you copied from Binance. Then you specify how much of the previously purchased Bitcoins you want to transfer to Binance. Note: Each transfer costs a fee. Therefore, you should make as few transfers as possible. Then click on "Continue".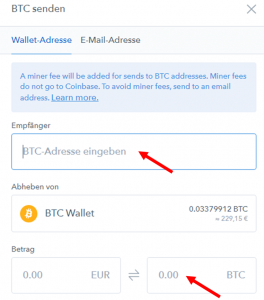 After confirmation, the amount will be transferred to your Binance account. This can take from a few minutes to an hour. You can see if the transfer was successful by clicking on "Funds" in your Binance account and then on "Transaction History". Under the item "Deposit" your transfer should appear as a new entry after a while.  As soon as this is the case, the transfer is completed and you can now use the Bitcoins to buy Ripple.
Step 3: Buy Ripple
Once you have charged your Binance¹ account with the desired amount of Bitcoins or Ethers, you can finally buy Ripples with them. It's pretty simple. Log into Binance and click on "Exchange" in the upper left corner and then "Basic". The user interface for trading in cryptocurrencies appears. A search field appears in the right area. Enter "XRP" there. This is the official registration number of Ripple on the stock exchanges. The pair XRP/BTC appears below. Click on it to select it.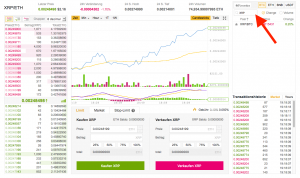 To buy Ripple with Ethereum instead, make sure that ETH is selected in the upper area (see cursor arrow). In the "Amount" field, enter the amount of Ripple you want to buy for your Bitcoins or Ethereum. The current market price is proposed to you. At this price it is very likely that your purchase will be successful.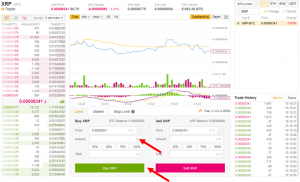 After you have clicked on "Buy XRP" the order will be executed and shortly afterwards you will be the owner of Ripple. You can check whether the order was successful by clicking on "Orders" in the upper area and then on "Order History". Your order is displayed here. If the status is set to "Filled", the order was successfully executed.
You can also see your Ripples in your wallet. To do so, click on "Funds" at the top and then "Deposits". Then navigate to the wallet "Ripple" and click on it.
Congratulations on your Ripples!
Tip: If you do not make a transaction with Binance for more than one year, fees are due. For this reason, it is advisable to transfer the Ripples to your own wallet within one year. We recommend the free wallet software Rippex.
¹Affiliate link
Note: The content on ethblog.de is for information purposes only and does not constitute investment advice or any other recommendation within the meaning of the Securities Trading Act.
Latest posts by Stephan Niedermeier
(see all)